One concern we heard from customers repeatedly last year was the lack of labeling on our shipping box.  Although "LIVE FISH" was printed on two sides of the box, some felt this wasn't enough to indicate to UPS drivers the precious cargo they were carrying.
So, we took your advice, and made some big improvements to our shipping boxes for this season.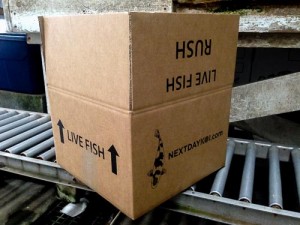 We left the "LIVE FISH" text on two sides of the box, and added our logo to the other two sides.  We also added "LIVE FISH" "RUSH" and "THIS SIDE UP" to the flaps of the box, so that all three are displayed prominently on the top of the box once it is closed and sealed.  The shipping label will be placed in a predesignated space on one flap, directly beside the printed labels, ensuring that everyone handling the box at UPS will look directly at the labels.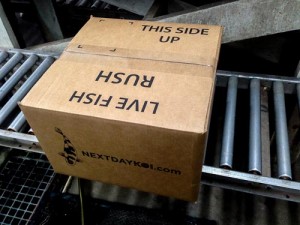 Currently we have only updated our large size shipping box.  Our medium and jumbo cooler boxes will be updated early this spring.  Look for the updated large boxes to start shipping out this week!