You love your koi pond and your koi love it. But what happens one day if you relocate or move your home? Will buyers love it as much as you did? There are plenty of stories about koi enthusiasts having to fill their ponds in as a prerequisite to selling their home. As well as tales of koi keepers filling the pond only for the deal to fall through.
Money Back Guarantee
Probably the biggest question is will you be able to recoup anywhere close to the cost of your pond? There is a pretty good chance that the costs of building and maintaining your pond have been fairly substantial. Sadly, the answer is probably not. Koi ponds are a niche addition, not a third full bathroom where you can recoup the value of the addition in the asking price.
Of course, there are always conflicting reports about how a koi pond (or water feature) will impact the value of home's resale value. This video on Pond Myths claims that water features are now considered one of the most sought after landscaping additions to homes.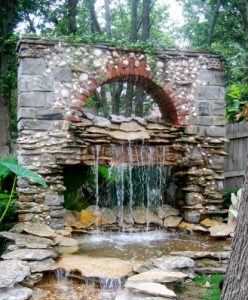 Similarly with this Top 15 Reasons to Have Koi and a Koi Pond article that posits "any real estate agent will tell you that having a Koi pond in your backyard can enhance the marketability and real estate value of your property." A quick search shows that not all real estate agents agree.
For example, this post from Family Focus FCU that says "if you want to add a Koi Pond or a swimming pool, you are not going to cover the costs of the home improvements if you want to resell in the future, but it is a good home improvement on a personal level."
Or this one (mentioning koi ponds by name as a terrible choice for home improvements) suggesting that a koi pond will not help to raise your resale value.
It is probably a good idea to speak to a few real estate agents in your area to see what their experiences have been in selling homes with koi ponds or water features. You might find they have different perspectives. Needless to say, the one that has had success is probably the one you should opt for!
Time to Resell
One issue is how long your house can potentially sit on the market while the fellow ponder that is looking for a new home in your area discovers the oasis in your back yard, and comes calling. The longer it sits on the market the more price reductions you are likely to have to offer. Although the home's value doesn't necessarily go down, the price will while you wait for offers.
Aesthetics Count
The pond's construction, or rather how well it has been constructed, is a predominating factor. Done well, it can be a magnificent and eye-catching addition to a back yard, and so add aesthetic value which can act as an additional selling point. If not, well, as a koi enthusiast you've probably seen a few that you wouldn't give two thumbs up.
The Buyer
There really isn't any accounting for taste. It really depends on who is looking at your home. If it is a family with young children, they might not be as excited about your pond as you are. They have to think about safety as well as unusable yard space. Another koi enthusiast might fall in love with your pond and drop a suitcase of money on his way out.
The Maintenance Factor
The size of the pond can be a deciding factor too. While a smaller manageable water feature or pond can be nice to look at without having to invest time, effort and money in the process, larger ponds (think, 10,000 gallons) might be seen as a bridge too far in terms of maintenance and/or hassle. Again, this is very much driven by a buyer's personal tastes. You are either a ponder or not.
Ultimately, many pond and koi enthusiasts will consider the cost of pond building and upkeep an acceptable line item on their expense sheet. The pleasure (and pain) that owning koi and maintaining the environment they live in to be worth the blood, sweat, tears and cash they drop on a water feature in their yard. The real improvement is on your own personal sanity and well being.
About Next Day Koi
As a 10-year-old company, we have helped to fill ponds with koi and goldfish across the United States. We bring you high quality fish straight from some of the biggest and best koi farms in the world—at incredible prices. And our high volume of shipping means we offer some of the most competitive Next Day Air shipping rates in the industry.